When you apply for a loan with us, we become the licensed holder of the title of your vehicle. In exchange we provide the money you need, which has to be returned in monthly instalments. You can continue using your vehicle, while you are regular with the monthly payments. The title will be returned when you pay the loan amount completely.
We provide loan amounts ranging from $2,500 to $50,000, depending on your vehicle's current market value, your ability to pay back the money borrowed, and on several other factors.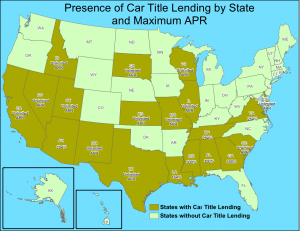 Interest Rates
The interest rates and fees we charge are nominal and one of the lowest in the industry. The charges, however, depend on several factors including
Location – Depending on the state you reside in, the charges may vary as the rules and regulations differ from one place to another.
Money borrowed – The higher the amount the more will be the interest rate.
The time span of the loan you opt for
Charges for Our Services
For the services we offer, a minor amount is charged as processing fee. The amount is generally 5% of the total loan amount. The charges are inclusive of the administrative costs. This covers all situations where an immediate repayment is made.
Credit Status
As you do the payments for the loan, you will find the interest rate added on a monthly basis is reduced gradually. This is a natural process that occurs as you pay the outstanding money. The loan borrowed reduces gradually in the beginning and later more rapidly as the repayment nears completion.
Early Repayment
In the event of early repayment of the loan we do not charge any penalty. If during the agreement you had signed for a two year repayment contract, but after the completion of one year, you are able to repay the entire remaining balance amount, we are ready to accept the money owed by you at that particular point and do not charge penalties like many loan companies generally resort to.
Low Rates and Fast Payments
We strive to quote the best interest rates possible for your car. This gives you an affordable interest rate and the easy application and approval process helps you get the amount you need in a very short span.
Easy Online Process
Instant pre-approval is now possible with our fast track online application format. The online application process takes only a few minutes to complete. The able customer support representative gives prompt assistance as and when you need them. Getting your cash immediately is possible once you submit the form online. Our representatives contact you immediately and ensure you get the loan amount quickly.